We stock large quantities of decorative stone at our northwest Wichita facility, including river rock, egg rock, pea gravel and cobble. All materials are available for delivery. For pickup (due to the size of our loading equipment) we specifically ask you to read our regulations for visiting our us.
Uses for Decorative Rock
Gardeners and landscapers often use decorative stone for landscaping beds, flower beds, foundation accents, lining pathways, pool or patio areas, water features and dry creek beds.  Larger rock is can be mixed with small rock for better coverage and a more interesting look. Pea gravel can be used for parking areas, playgrounds or walkways.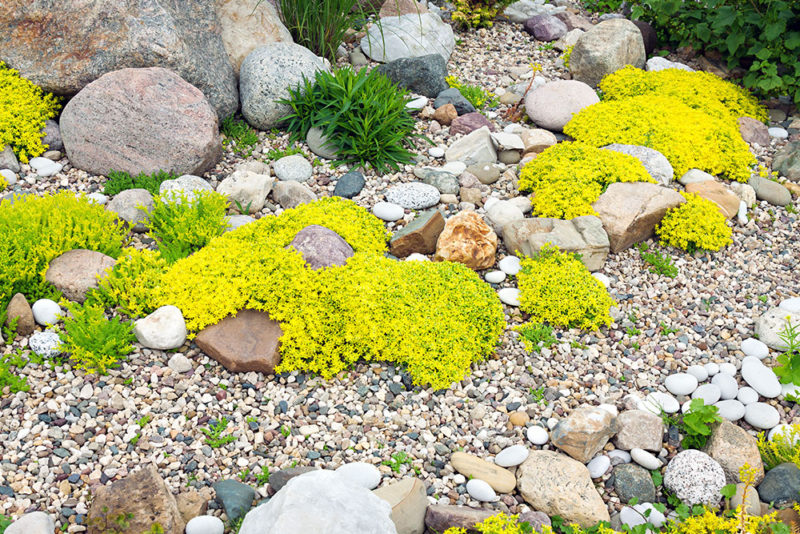 Competitive Pricing
In many cases, freight can be more costly than the rock itself, so we work with multiple producers and freight companies across several states to bring in stone at reduced freight costs. We then pass this savings on to our customers to make their projects more affordable. We sell our decorative stone in bulk with wholesale pricing. There is a minimum sale amount for decorative rock of $35.00, including tax.
We sell this stone as it is received from our suppliers. To keep the cost down, we do not do any additional washing or screening after we receive the material. Depending on the excavation methods used, the rock may have a film of silt or sand on it that sifts to the bottom of the pile as it dries. In most cases, the rock will need to be rinsed off with a garden hose after installation. In some situations, the material at the bottom of the pile may need to be separated from the debris prior to installing it.
Standard Products
Most of the pictures below depict a damp rock so the true colors come through. As a natural product, it is normal to have some variation in color, shape and size between different loads of stone.
Samples of all of our rock products are available on site at our office. Customers are welcome to come out and view our materials. We'll be happy to help you select the best type of stone for your project.
View Our Decorative Stone Below